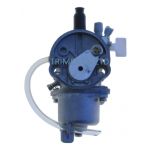 CARBURETTOR FOR 47-49CC BIKE
CREATE ACCOUNT OR LOGIN TO SEE PRICING
Description
Additional information
Description
Product Code: CARB47-49CC
This 47cc – 49cc high performance carburettor is one of a wide range that we sell which fit Chinese air cooled Mini Moto dirtbikes, mini quads and mini racing bike styles.
If yours needs replacing its probably because its one of the cheap nasty ones that many sellers offer.
It comes from one of the best Mini Moto CNC factories. Buyers will receive one complete carburettor as pictured. Steer clear of the super cheap models, as for little more you can buy this one.
Carburettors do not come with air filters gaskets or inlet manifolds unless they are pictured. The choke lever if fitted is located on the right. Please measure your old carburettor prior to purchase to ensure you order the right type for your machine. Things to check are the connection size of the inlet manifold (the joint between engine and carburettor), the size of the air filter connection and the manual choke location (unless its automatic choke).
Carburettors are the brains of engines. If you have a cheap problamatic carburettor this will produce running issues ranging from poor idling to poor revving out with a whole host of issues in between. Improving your carburettor will generally enable your engine to work faster, and create more power and offer better reliability.
Most of the carburettors we sell are Japanese precision engineered to ensure optimum performance and reliability
All carburettors include brass jets for smooth fuel flow
All carburettors are pre tested by our supplier to ensure they work once received
MINIMUM ORDER: 10PCS